Hey there –
It's Sergey, from Medium.
Don't freak out.
Let me explain first and then freak out.
I know I said "I am moving over to Substack" in my last week's email, but nobody warned you it was going to be a completely different newsletter.
For a long time, people have been writing me emails and asking for advice on how to create a blog. I responded to each email and even wrote two books on the subject: one about Medium, the other on blogging in general.
So – after much deliberation, I decided to get rid of the personal newsletter (who needs it anyway?) and create a new one, called The Honest Creative.
The purpose of this newsletter is simple: to help you – creatives (bloggers, book authors, Medium writers, podcasters, vloggers, entrepreneurs) achieve "success" via content.
Now – I put the success word into "quotes" for a good reason. Most newsletters, articles, and blogs on creativity focus on the marketing side: how to attract followers, lure them into your funnels, and all of that marketing crap.
We're not going to have any of that here.
Instead, we'll mainly focus on three things:
How to turn blogging into a full-time career. That's right. We're going to be talking about how to "blog for a living"

Creating content that matters. Most bloggers focus on clickbait, catchy headlines, and "content that others want to read". No. We're honest creatives, so we want to create evergreen content. We want to create art. We'll learn how to discover an artist within ourselves, and how to create content that strikes a chord.

Inspiring you on the creative journey. An artist's journey can be a lonely one. This newsletter is first and foremost, a community. I am here for you. But so are the other creators, with whom you can resonate, ask questions and feel "at home". This is the community you've been looking for. You have arrived.
I am creative, just like you. I write on Medium, publish books, and record podcasts.
And I have doubts, insecurities and "money problems". Just like you.
What I want to do with this newsletter is to try to be super-honest (after all, the name) about my journey and share with you what I have already figured out, as well as things that I learn on-the-go.
We'll start off with one email each week – on Thursdays.
These emails will have tips, advice, curated links by me – and everything else that can help you achieve success as a creator, build the freedom, and the life you want.
If this goes well, I am planning to launch a podcast, where I interview successful Medium writers, bloggers, and book authors, as well as a premium learning community for creators.
You don't have to do anywhere – you'll receive weekly emails right here, in your inbox. So just sit tight and enjoy the ride.
But – if you do enjoy this newsletter, you can support me by sharing it with a friend or two.
---
One last thing before I go.
As I was growing up, I never thought of myself as a "creative". My dad put me in a rigorous maths school in Russia (where I, needless to say, sucked) and for many years I've been following his footsteps to becoming an entrepreneur, who's interested in money, banks, and expensive restaurants.
It wasn't until I met my girlfriend that I started to connect with my natural creativity.
I would say something funny or come up with an idea, and she'd say, "Wow, that was so creative!"
She wasn't praising me or trying to look nice. She sincerely fell in love with my creative side – the one I was hiding from myself and others for many years. Nobody told me I was creative before. She gave me permission.
It was thanks to her nudging that I wrote my first book, then three more and started writing daily on Medium. Now I am unstoppable.
The most important thing I want to do with this newsletter is to give you permission to create.
No matter where you're from, what you do, or what kind of background you have, you have the creative spark living inside of you.
You are creative.
You are original.
You are enough.
Go do shit.
Write that book of short stories you've always wanted. Start writing on Medium every single day! Launch that podcast, now. Sometimes all you need is to make the jump.
You have all the permission you need. And remember – I am here for you, to help.
Welcome to the Honest Creative newsletter. It's so good to have you.
– Sergey Faldin, top Medium writer, and an honest creative.
Don't hesitate to drop me an email at faldin.sergey@gmail.com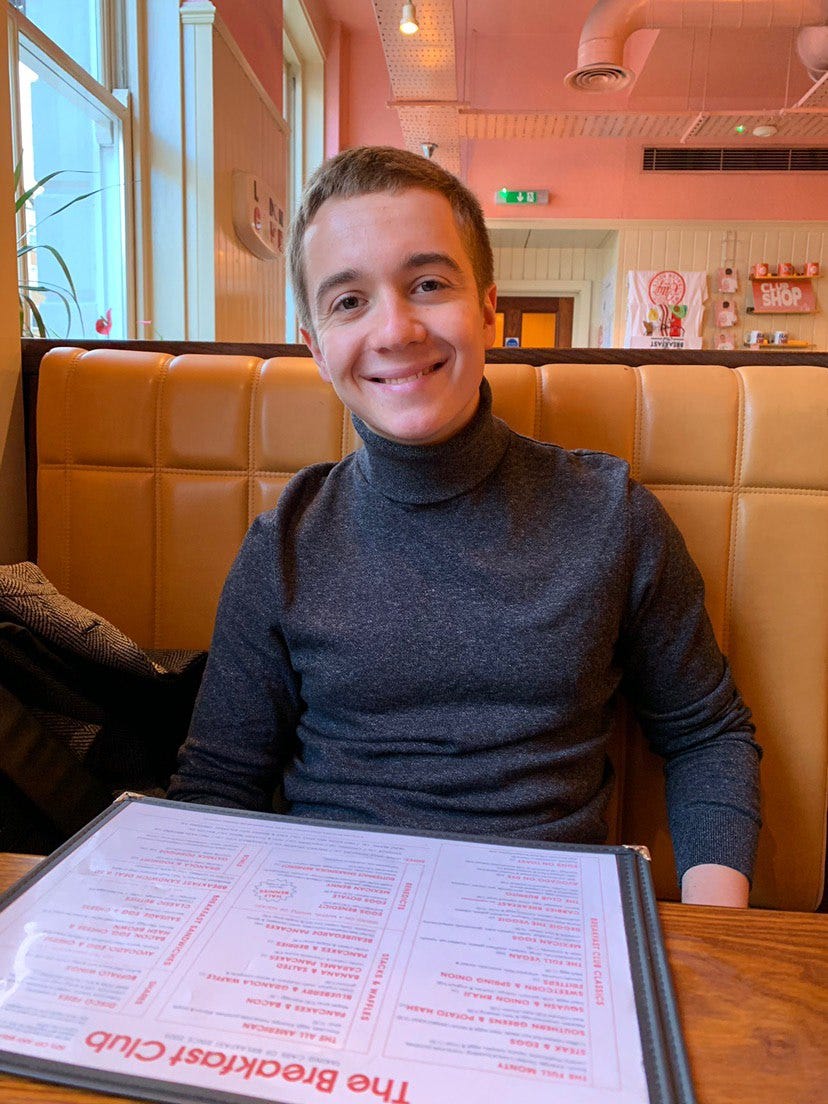 That's me smiling at The Breakfast Club cafe in London before the lockdown began. Can't wait to go there and smile some more.
---
You might also enjoy these:
• Why You Shouldn't Care How Much Anyone Makes on Medium
• What the "1,000 True Fans" Concept Is Really About
• Online Writers, Please Stop Trying to Compete With Buzzfeed